Roller Bearings, Ball Bearings, & Metric / Precision Bearings - MA
South Shore Bearing Distributors, Inc., has specialized in offering top quality bearings to its customers in Boston, North Shore MA, South Shore MA, southeastern MA, and Cape Cod for over 50 years.
South Shore Bearing offers quality Timken bearings, Federal-Mogul bearings, Bower/BCA bearings, and IKO precision & metric bearings, for most industrial, manufacturing, machine, automotive, or commercial applications.

We carry many types of bearings from the top names in the industry:
Roller bearings
Cylindrical roller bearings
Tapered roller bearings
Spherical roller bearings
Needle roller bearings
Straight roller bearings

Ball bearings
Radial ball bearings
Angular contact ball bearings
Precision ball bearings
Metric bearings
Pillow blocks
Flange units
Timken Bearings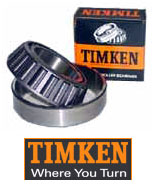 South Shore Bearing is proud to carry Timken bearing products. We have a large inventory of Timken bearing products in stock, and we can order the Timken bearing item you need if we don't have it in stock. Call us at 617-471-7800 to inquire about any Timken bearing product.
Timken is an industry leader and provides all types of roller bearings for many applications, including cylindrical bearings, tapered bearings, spherical bearings, and needle roller bearings.
Timken is also a leading producer of ball bearings for high precision applications in a variety of markets, including industrial, machine tool, construction, agriculture, and health. Timken ball bearing product lines include: radial ball bearings, angular contact ball bearings, and precision ball bearings.
Roller Bearings

Cylindrical Bearings: Cylindrical bearings are available in one-, two-, and four-row configurations. Timken's cylindrical bearings provide the highest possible radial load capacity compared to other roller bearing types. Applications include: pumps, compressors, gear boxes, centrifuges, aggregate processing, transmissions, gear drives, rolling mills, machine tools, cement crushers, conveyor drives; gear reducers, and spherical pillow blocks.

Tapered Roller Bearings: Timken manufactures the world's most extensive line of tapered roller bearings - nearly 26,000 bearing combinations - in single, double and four-row configurations. Timken tapered bearings are uniquely designed to manage both thrust and radial loads on rotating shafts and in housings. Applications include: general industrial & automotive applications, vehicle front wheels, differential & pinion configurations, conveyor rolls, machine tool spindles, trailer wheels, industrial equipment configurations, power transmission, heavy industries, heavy-duty gear drives, sheaves, crane sheaves, gear reduction units, calendar rolls, industrial machinery, various speed rolling mills.

Spherical Roller Bearings: Timken spherical roller bearings are designed for heavy loads and tough operating environments, and manage high radial loads even when misalignment, contamination, poor lubrication, extreme speeds or critical application stresses are present. Timken offers various spherical bearing types, such as brass cage, steel cage, and pillow block designs. Timken spherical roller bearings accessories are also available. Applications include: continuous casters, vibratory screens, and gear drives.

Needle Roller Bearings: Timken produces a broad range of needle roller bearings and bearing assemblies for specialized applications. Many original equipment manufacturers and industrial distributors throughout the world use quality Timken needle roller bearings. Important sectors include the agriculture, automotive, construction, consumer products, and industrial goods markets. Applications include: automotive & truck transmissions (automatic and manual), overhead valve & overhead cam engines, agricultural & construction equipment, engines & valve trains, two-cycle engines, steering & braking systems, axle support, outboard engines, power tools, copiers & fax machines, appliances, exercise equipment, two-speed gearboxes, pumps, and compressors.
Ball Bearings

Radial Ball Bearings: Radial ball bearings tolerate relatively high-speed operation under a range of load conditions, and are engineered for use in high-speed, high precision applications in fields such as general industrial, automotive, agriculture, chemical, and utilities.
Angular Contact Ball Bearings: Angular contact ball bearings are designed for combination radial and axial loading, and are engineered for use in high-speed, high precision applications in fields such as general industrial, automotive, agriculture, chemical, and utilities.
Precision Ball Bearings: Precision ball bearings are designed to meet demanding application requirements, and are used for high precision applications in markets such as machine tool, robotics, general industry, and health. Applications include: high-speed grinding spindles, high-speed boring & milling spindles, high-speed routing, and precision vertical & horizontal milling spindles.
Federal-Mogul Bearings
South Shore Bearing Distributors carries Federal-Mogul bearings, seals, gaskets, bushings, and washers. Federal-Mogul is a company known for its innovative powertrain, sealing, and safety & protection products, and its advanced solutions that help to improve fuel efficiency, increase vehicle performance, and reduce engine emissions.
Federal-Mogul designs and manufactures bearings for internal combustion engines that are specially matched for specific applications. Every bearing has its own function and comes in different forms depending on where it is installed. Bearing shells and bushings are used for radial loads, while thrust washers or thrust collars are used for axial loads.
Bower/BCA Bearings
South Shore Bearing Distributors offers a full line of Bower/BCA ball bearings and roller bearings. Bower/BCA Bearing is one of the world's leading manufacturers of bearings and precision industrial equipment. Bower/BCA Bearing specializes in manufacturing tapered roller bearings, and has long served the needs of the industrial and automotive sectors.
Bower/BCA roller bearing types include cylindrical roller bearings, needle roller bearings, tapered roller bearings, and spherical roller bearings. The geometric shape of these rolling elements are used to define the classification of the bearing product.
Bower/BCA ball bearing types include radial ball bearings and angular contact ball bearings. The two basic types of ball bearings are radial and thrust. Although both are designed to carry one type of primary load, depending on the specific bearing design, they may also carry a variety or combination of loads.
IKO Metric / Precision Bearings
For metric bearing needs, South Shore Bearing carries the quality line of IKO metric / precision bearings. IKO machined type needle roller bearings have a low sectional height and large load ratings. IKO bearings are available in metric series and inch series, both of which have the full complement type and caged type. IKO metric / precision bearings can be used under various conditions, such as heavy loads and high-speed or low-speed rotations.
IKO combined type needle roller bearings are combinations of a radial bearing and a thrust bearing. Caged needle roller bearings are used as radial bearings, while thrust ball bearings (or thrust roller bearings) are used as thrust bearings. IKO combined type needle roller bearings are very economical, compact, and can be subjected to radial loads and axial loads simultaneously. These IKO bearings are widely used for machine tools, textile machinery, and industrial machinery.
The special internal structure and small, lightweight mechanical design of IKO metric / precision bearings make this needle bearing a good choice for high-quality, unique machinery and equipment to do precision machining. IKO needle roller bearings are rotational motion bearings, in which a thin needle-shaped roller is incorporated into a rolling element. Because these small needle roller bearings contribute to reducing overall machine size, they are widely used in various applications such as automobiles, motorcycles, printing presses, industrial robots, and construction equipment.
Vintage Bearings & Seals For Sale
Vintage Bearings & Seals

for cars, trucks, and equipment - All vintages and years to date for axles, wheels, differentials, pinions, transmissions, and more!

Call toll-free 877-768-8427

for more information on vintage bearings and seals ... We ship anywhere!